Valentine's Day 1989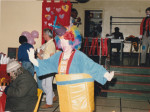 For Valentine's Day, 1989, Herb and I decided to throw a surprise Valentine's Day Party for the homeless women at a Dinner Program in Washington, D.C. Herb was a volunteer cook and server there, and I went every other Sunday evening with a clown friend to facilitate arts and crafts with the women. We called the director of the program, and she thought it was a good idea.
We wrote an invitation to our friends, inviting them for an evening of gift-wrapping and cookie decorating. We asked everyone to bring small stocking stuffers such as cologne, sachet, lotion, cosmetics, soap, and other pretty small items.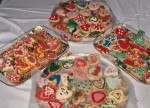 For extra credit, people could bring cut-out cookies in the shapes of hearts, flowers, or animals which we would all decorate. Herb went out and got department stores to donate boxes and small gifts.
On the Saturday before Valentine's Day, our friends arrived with gifts and cookies. Although none of us had ever done anything like this before, we decided that the gifts needed to be sorted into categories, and then equally divided and put into the 75 boxes we had available.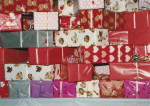 Within an hour that was accomplished, and then the boxes were ready for gift wrapping. Meanwhile, there we were with 350+ cookies to decorate! It turned out we had enough cookies for three other shelters!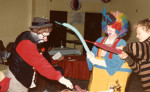 On Valentine's Day, two other clowns and I, plus three helpers, surprised the women at the shelter with the party. There were balloons, decorations, materials to make valentines, and other activities in which the women joined in.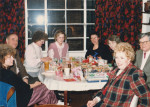 After dinner we gave out the presents. The women were filled with joy and appreciation as they opened their gifts. We closed the evening by serving beautiful platters of cookies, with plenty for them to take with them.
The party was quite an unexpected surprise to the ladies, and an experience they talked about for quite some time. Those of us who put it together also remember it as a very special Valentine's Day!
[Written February 14, 2010]