Eclair De Loon ~ I used to put humorous messages on my phone answering service. This is my favorite, including the answer. 🙂
Although I have been involved in many kinds of alternative medicine in the past 35 years, I have chosen humor and laughter to write about.  After becoming a clown in 1981, I became the facilitator of the T.A.O. Humor Center, which stands for Totally Awesome and Outrageous.  As the crow flies, we were located between the CIA and the Pentagon in Washington, D.C.
I was in three clown troops.  The Pink Flamingos were organized as part of the TAO Humor Center.  It was focused on the inner child, and on how to play in this world.  Just Clowning Around raised money through clowning for charities.  The Fellowship of Christian Clowns was started by a clown teacher in a Baptist Church.  Mr. Eve taught for years, and got many clown troupes started in many denominations in the Northern Virginia area.  Often we would do Bible skits or evangelism.  We were part of a huge national group of summer camps for spiritual clowning.  My husband and I attended those for four years.  Top performers, nationally, would come and teach all types of skills pertaining to clowning, puppetry, and storytelling.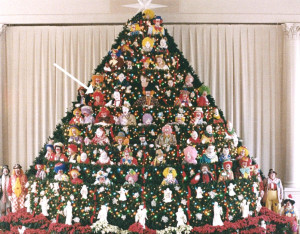 At Christmas, over fifty clowns would get together and climb into a form that would create a huge Christmas tree.  The tree was in a Baptist Church and was used by the choir.  We gave a little program and sang Christmas carols.  It was a free program advertised in the newspapers.  Standing high in the tree and looking out at the audience is one of my favorite memories.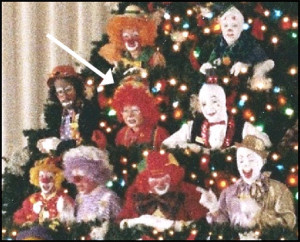 One year I tried to get a permit for the Pink Flamingos to clown on the National Mall in Washington, D.C.  The permit never came, but we decided to go anyway.  I really wanted to put giant bubbles in the reflecting pool, which we DID!  I didn't know what the police mounted on horses would do, but they turned their heads the other way and covered smiles.  Then they looked down and waved.  It was delightful!  The serious Pentagon marathon runners even grinned and gave us high fives!
In 2002, I learned of a group called the World Laughter Tour.  They trained laughter leaders, and I decided to take the training.  It was started by a medical doctor in India.  He had researched all the physical and psychological benefits of laughter, and taught group exercises to get people to laugh together.  He conducted these groups outside near a river and in hospitals.
Steve Wilson went to India to study with Dr. Katira and brought the exercises to the United States.  The class was a whole weekend, with the graduation to be around the U.S. Capitol grounds.  However, after 9/11 there were jersey barriers all around the Capitol and tourists did not walk there anymore.  How were we going to get passers-by to participate when they didn't go there anymore?
I mentioned the problem to my husband, who had become a Washington, D.C. tour guide after retirement.  He said that he would try to get his busload of fifty-five teachers and students to come by at the appropriate time.  Sure enough, in the midst of our disappointment at having no outside participation to share our fun, this huge tour bus shows up and stops.  The tour guide gets off and goes to ask Steve what we are doing, and could his group join in?!!!  Excited at the good luck, Steve rushed to pick up his bull horn as fifty-five people gathered to join in the laughter.  I waited a little while to tell Steve that it was my husband who brought the group of tourists.  We certainly overcame 9/11 that day!
These are a few of the experiences of my alternative health choice of laughter and humor.  After all, the Bible in Proverbs 17:22 says, "A merry heart doeth good like medicine."
[Written June 29, 2009]